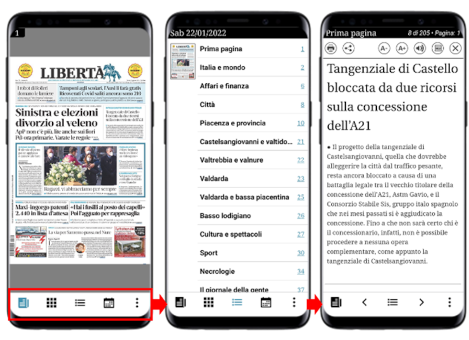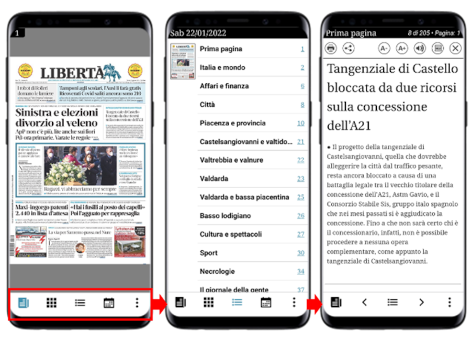 An exciting reading experience for readers and a fast, hassle–free migration for the Publisher
Libertà, founded in 1883, is one of the oldest paper in Italy and the main publication in Piacenza.
The new Libertà digital edition, built on Tecnavia's Newsmemory platform, launched at the beginning of February, after just three weeks from inception of the project, a remarkably short time considering the complete migration from Virtualcom. Tecnavia, with a simple and quick migration process, has imported all active users from Virtualcom.
Enthusiastic comments are coming from subscribers in the letters to Editor section and in the App Stores.  In the Apple Store, the score incredibly increased to 4,6, an impressive result in such a short time.
They especially appreciate:
– the full segmentation, thanks to which all contents, both articles and advertisements, are perfectly clipped and indexed providing a more engaging, intuitive reading experience on all devices, including smartphones;
– the download speed, that gives the opportunity to effectively read the newspaper also if the connection is not always so efficient.
– the user-friendly interface that makes it comfortable and easy to read the newspaper on all devices.
The renovation and relaunch includes the re-processing of two years of archives and the launch of new native iOS and Android apps with some brand new improvements, including:
– full vectorial text implementation (on both Apps and HTML5) for better readability on high resolution devices (4K monitors), as well as on small mobile screens.
– a new redesigned App menu bar, constantly visible on the bottom of the screen for simplified navigation.
– in app page jumps from first page articles for easy access to relevant content.
– the recently revised and improved version for visually impaired
The new Digital e-Edition is already available for the Libertà subscribers every day from midnight without article segmentation, but then it is updated with  the fully segmented version by 3am for a more comfortable reading experience also on phones.