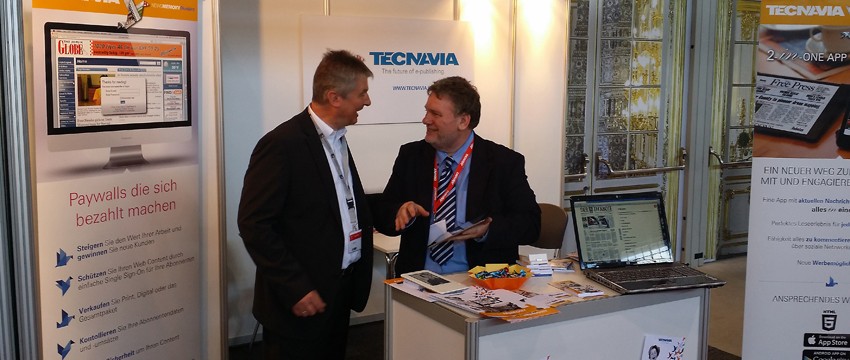 In the image our sales manager Mr. René Sluyk (right) in discussion with Mr. Roland Preßl of Prero Austria on e-Editions & Apps at the X-Fair in the Marx Hall in Vienna, Austria
During X-Fair, a complete new three days exhibition in Marx Hall Vienna, Austria, Tecnavia has showcased:
Bluebird: next generation web browser e-Edition, adapts to any device the browser is running on. If a reader is using a computer, iPad, iPhone or Android, the interface changes to best display the publication given screen size. Bluebird is a ground-up update that uses the latest HTML5 technology to run e-Editions on tablets and smartphones without the need for a platform-specific App.
2-in-one App: an App featuring real time news and the digital replica, all in one. This means readers go to one place to get breaking news and updates, the published content of record and access to archives. Access to all the content can be specifically controlled.
Metered Paywalls with Single Sign-On: e-publishers need to control access to their content, and get paid. Access to web stories can be metered to offer X number of free stories before requiring registration or subscriptions, or control access using other business models. There are also various ways to report on usage, create and manage reader accounts and sell subscriptions. The Paywall controls stories from web servers along with the e-Edition, so subscribers have a convenient single sign-in to access all their authorized digital content. Flexible interfacing allows integration with typical circulation and CMS systems.
Upcoming shows Tecnavia will participate:
Soon more details about these events.