New tools and technologies give newspapers a new appeal; catching the audience of new readers more oriented to digital.
The seventeenth edition of Wan-IFRA Italy 2014, the international conference for the publishing industry and the Italian press, closed its doors in Padova, lighting hope on the hottest topics that the industry is facing.
The speaker's reports confirm that  even in a context of crisis in sales and advertising in Italy and abroad, there are success stories that combine investments in technologies with the ability to invent products and services to give new life to the printed product.
Pierangela Fiorani, director of the Venetian newspapers of the Group Espresso-Finegil, pointed out that it was "necessary to continue to experience all the ways to provide quality information to readers, even in the awareness that the paper will remain for many years the core of the publishing business."
Among the speakers: Guido Ottaviani (Media Project), Anna Matteo (Italian Kiosk) and Dario Martelli (Askanews).
Alessandro Belloli (Avvenire), with the slogan "Protagonists in Change", has talked about the positive partneship with Tecnavia considered as a Printing Center.
For Avvenire, the readers and their needs are the focus. Their sales of the print edition are constantly growing and they are investing in new digital opportunities. Belloli has announced the Midnight edition and new, advanced products realized with Tecnavia as a partner: a new App for iOS with crisp text and images, very fast e-edition download and background download, offline reading button, push notifications – also out of iOS Newsstand – and newsletters to announce that the new edition is online; the new Hybrid App with RSS feed and, last but not least, new life to the advertisings from print to digital.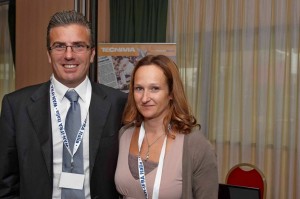 Tecnavia, your ideal partner for 360° of service.
Sponsor at WAN-IFRA Italia 2014.