Tecnavia, an ​essential partner for Der Teckbote,  provid​es a complete portfolio of  e-publishing solutions
Since 1975, Tecnavia has aimed to provide high-performance, innovative, cost-effective, and reliable solutions. Today, we continue providing high-quality technology solutions, relying on hard work, bright ideas, and continuous research. Our recent work for the German regional ​newspaper Der Teckbote is a great example of our work, as well as our commitment to building for the future. Der Teckbote,  a medium sized daily newspaper situated in Kirchheim/Teck, not far from Stuttgart,  partnered with Tecnavia to achieve their goal of creating an e-Paper with apps, with full device support. Tecnavia's NewsMemory Bluebird  provides them, without the need of complex interfaces to process their existing data, a perfect representation of their daily newspaper on PC's, iPhone, iPad and Android devices.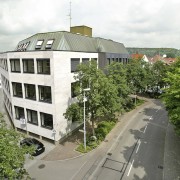 Director of Der Teckbote, Mr. Ulrich Gottlieb,  asked Tecnavia to migrate their impressive legacy: a fine-grained, well-thought structured physical archive into a full searchable online digital archive, as well as  introduce our Metered Paywall to let the publisher control access to their unique content and get paid for their precious articles, while remaining the trusted source of high quality journalism in their region.  Der Teckbote's decision to partner with Tecnavia will provide the benefits of over 40 years of ePublishing experience. With intelligent functionalities where they count most, we're making our products work harder for this German customer, and several others like them. We also offer their printing house, GO Druck Media Verlag GmbH & Co. KG, our NewsMemory Bluebird technology as a white label product, providing them the opportunity to service  any of their third party print customers, and thus helping them to expand their print business.
We are looking forward to the next 40 years as we continue to build for the future of e-publishing. Like Der Teckbote, you too can count on us to be your essential partner, providing a complete portfolio of publishing products and solutions for 360° of service.