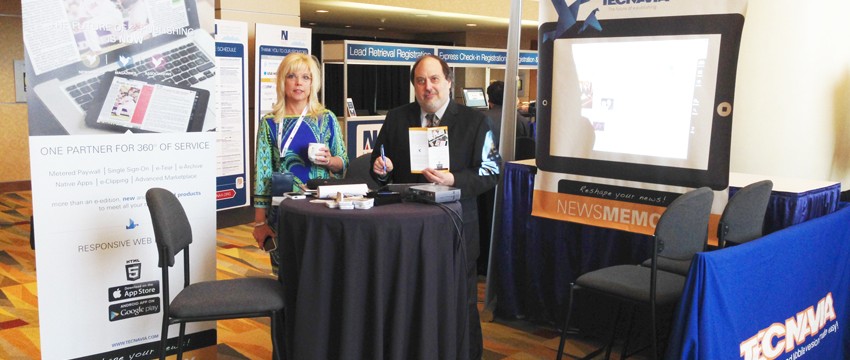 In 2014, everything at Tecnavia is new, with updated and improved solution to help web and print publishers evolve into the broader world of electronic publishing.
The following are only a few of the highlights we have showcased:
eEditions & Apps
• New-look HTML5 web browser edition, mobile aware
• iOS and Android Apps with new interfaces, full support for phones and tablets
• Apps that present real-time web news and digital ads.
• Completely new back-end monitoring and publishing tools
Live News eEdition & Web sites
• Present your live web news in a branded, mobile aware app
• Combine live news with print replica in a single branded app
• Auto-publish web sites using live and print content
Digital Paywalls with Single Sign-on 
• Protect all your web content with an easy, single sign-on for readers
• Meter access to web content along with eEditions; low rates, no revenue share
• Sell digital, print and bundled subscription packages via web
If you're just starting out with an eEdition, or looking to expand your offerings with archives, an advertiser marketplace, or maybe eTearsheets, we have it!
Our all-in-one customized products provide an end to end solution to generate revenues and simplify workloads, helping publishers on any budget take flight into the broader world of e-publishing.
Current clients are eligible for free interface updates upon release. The new versions provide so many new opportunities and we can't wait to help you take advantage of all the new features, cost savings and revenue possibilities.
At Tecnavia, we're committed to being the only partner you'll need, for 360˚ of service!