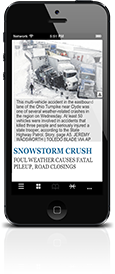 66th World Newspaper Congress · 21st World Editors Forum · 9-11 June Turin 2014
John Elkan, chairman of Fiat, has opened Wan-Ifra Turin 2014. From his speech and from the speech of Larry Kilman, General Secretary of Wan-Ifra, emerged the following considerations:
– today in the world: 2 billion people, one-third of the world population, are connected to the Internet using tablets and smartphones.
– one quarter of all web access is via mobile, forcing a quickly and constantly developing market
– from 2009 to 2013 the sales of smartphones have risen exponentially
– results of Wan-Ifra research about the general situation of worldwide publishing indicate that while readership of traditional print continues to decline, readers of web+print are on the rise
 The challenge to keep print alive is significant and includes all publishers, journalists, advertisers, institutions…and smartphones seem to be more and more the future of the publishing industry.
 TECNAVIA is ready for that challenge with a digital print replica that is web, tablet and smartphone ready. Our customized e-publishing solution, Newsmemory Bluebird, the new generation of e-edition, is not simply a product to browse pdfs, but a full featured and robust product that also allows to read the article both in graphics and in article mode. (See Split Screen feature)