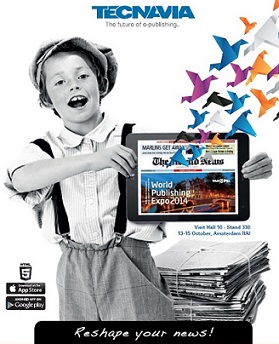 TECNAVIA is waiting for you at WAN-IFRA Amsterdam at the Hall 10, stand nr.330.
New, interesting updates to Tecnavia's innovative e-publishing solution services:
New native Apps for iOS and Android to better visualize the digital replica
High speed downloads for immediate and offline reading. Background download available
New Hybrid App that integrates with the Tecnavia Metered Paywall
Apps featuring real time news and the digital replica, all in one. A new way to interact with and engage readers
New life for advertising
New web advertising inventory for Advertisers
TECNAVIA, ONE PARTNER FOR 360° OF SERVICE !